These last few days I've been traveling back in time. OK, absent a flux capacitor and a DeLorean, perhaps not literally, but, figuratively speaking, very definitely so. I've been traveling back not once but twice, to two very separate, though interconnected, periods of time ... the first in the 20th century, the second in the 19th century:
In the 1950's I spent several summers with my dear Aunty 'Cis' at her home in the charming Sussex village of Alfriston. I loved my time there. I fished in the river Cuckmere, foraged for winkles and limpets in tide pools near the river's mouth, went for long walks on the Downs with 'Buster', the dog next door, plied local shopkeepers with endless boyhood questions, and in the evenings used a hatpin to 'winkle out' the day's harvest of marine gastropods, which would be devoured all steaming hot, liberally doused with vinegar, salt and pepper.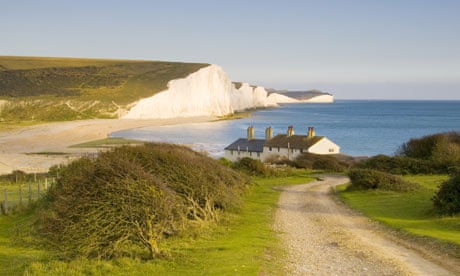 My cousin Charles grew up in the village, served in the RAF throughout WWII, and earned a DFC in the process. Sadly in 1946, a year after the war ended, he was killed in action still flying on active duty with the RAF. He is buried in the local churchyard, overlooking The Tye, a Saxon term for the village green, a short walk from my aunt's house. I often visited his grave wondering what it was like to pilot a Mosquito, winging over the Seven Sisters, on up the Cuckmere Valley.
In the village, close to my aunt's house, was an antique shop to which I was inexorably drawn. There were so many items to excite a young lad's fancy ... medals, daggers, fly-rods, objets d'art of every conceivable kind, but chief among them a cased cap and ball revolver complete with bullet mold and other essential accouterments. How I lusted after that gun! What history it had seen. What stories it could tell. What heft it would have in my hand. But despite every plea, Aunty 'Cis' forbade my proposed purchase. Thus it became one of those lost opportunities we sometimes encounter in life ... I wonder what that antique would be worth today!
Years passed and the thought of owning a cap and ball revolver faded from my mind ... that is until recently when I visited an antique collective in Petaluma, CA and happened across an Italian reproduction of an 1847 Colt Walker. Even though I did not end up buying that particular weapon, handling the gun rekindled my interest in 19th century arms, particularly those that played a role during The Civil War and on the American Frontier. Thus began my second journey back in time ... a journey to gain more understanding of history, a journey to experience black powder weapons first hand at the range.
This quest led to me to what, because of its patent date, is often referred to as the Model 1858 Remington. In reality wide scale production did not start until 1861, continuing till 1875. More correctly this gun should be termed the New Model Army. It is a large-framed, six shot revolver, in .44 caliber, with an 8" barrel. The Remington owes its renowned durability to its 'topstrap' solid frame design. The design is stronger and less prone to frame stretching than Colt revolvers of the same era. These percussion revolvers are both accurate and powerful. With a conversion cylinder they can also fire 45 Long Colt cartridges.
A key feature of the Remington New Model Army is its quickly removable cylinder, allowing for rapid reloads via a spare loaded cylinder. For Civil War pistoleros the best way of increasing fire power, however, was to carry several of them, like this Confederate guerrilla. He has a Remington in each hand and at least two more on his belt. That gave him 24 shots of fairly rapid fire, not too shabby even by today's standards!
So enough of the history, here's a look at the gun in question, an Italian reproduction of the New Model Army shown here with powder measure, .451 diameter 138 grain round balls, and straight line capper. Twenty five rounds at the range yesterday fulfilled my hopes and expectations. For a very modest outlay this large caliber handgun is plenty accurate, very comfortable to shoot, and a whole lot of fun. I'm glad I decided to step back in time.